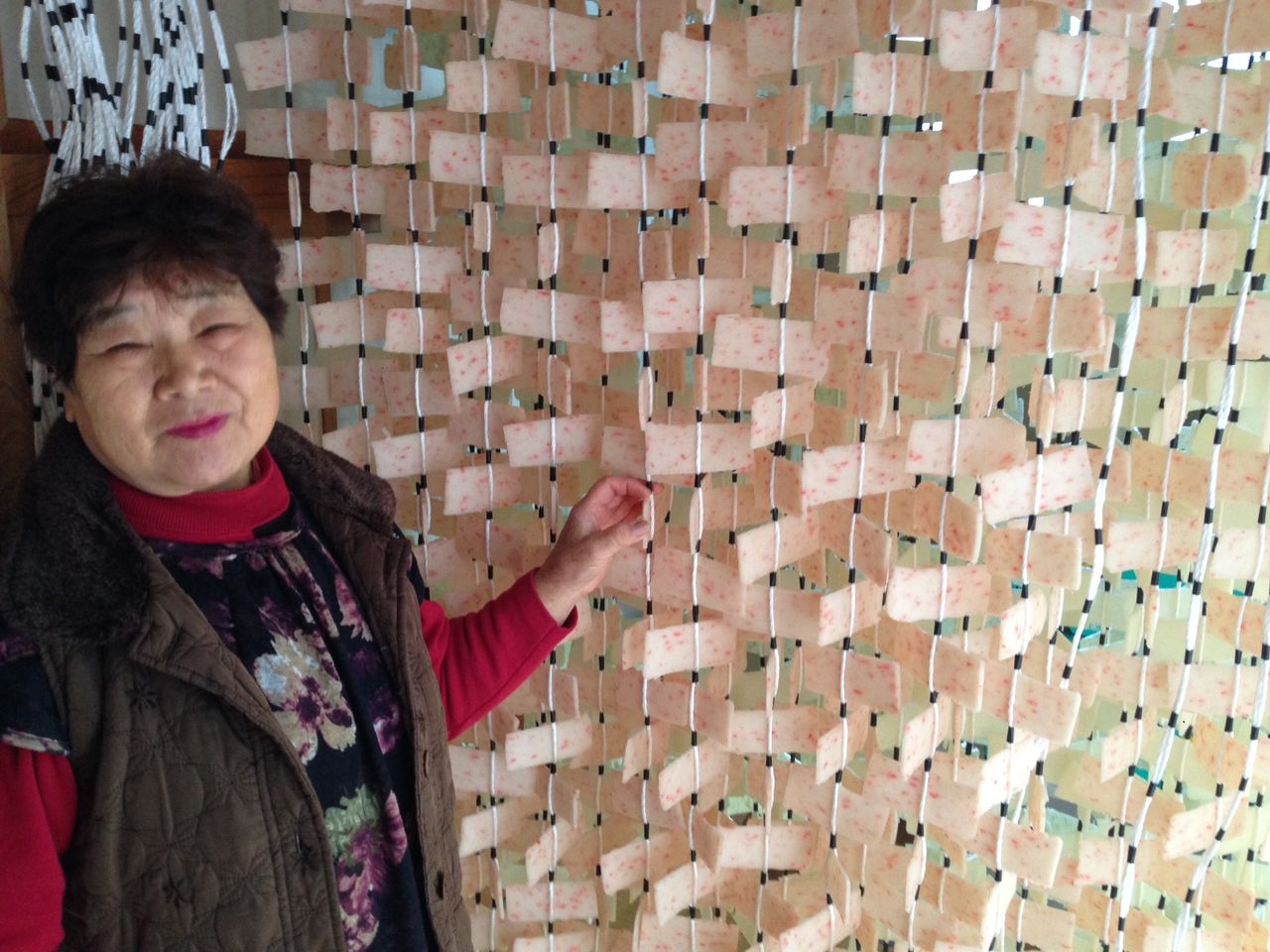 Heute durften mein Kollege Go und ich eine traditionelle Spezialität aus Aso probieren, die auch bei Michi no Eki Aso verkauft wird. Sie heißt Kakimochi und wird bis heute von den Bewohnern Asos zum Tee gegessen. Siewerden, wie ihr auf dem ersten Foto seht, hergestellt, indem Mochi (Reiskuchenaus Klebreis, die in der Regel zu Neujahr gegessen werden) in eine rechteckige Form gebracht und über einen längeren Zeitraum an einem kalten Ort aufgehangen werden. Produziert werden sie von einer Privatperson (die ihr auf dem Foto seht), sodass es leider keinen eigenen Laden gibt, indem ihr sie kaufen könnt. Sie werden in zweierlei Form verkauft: roh und gebraten. Wer sie roh kauft, muss sie selbst zubereiten. Dafür sind die rohen Kakimochi wesentlich länger haltbar als die gebratenen. Kakimochi schmecken sehr leicht und mild und sollten, wie erwähnt, am besten zum Tee gegessen werden, da sie relative hart sind. Wenn ihr nach Aso kommt, dann schaut doch vorbei und probiert diese lokale Delikatesse.
Freundliche Grüße aus Aso,
Marco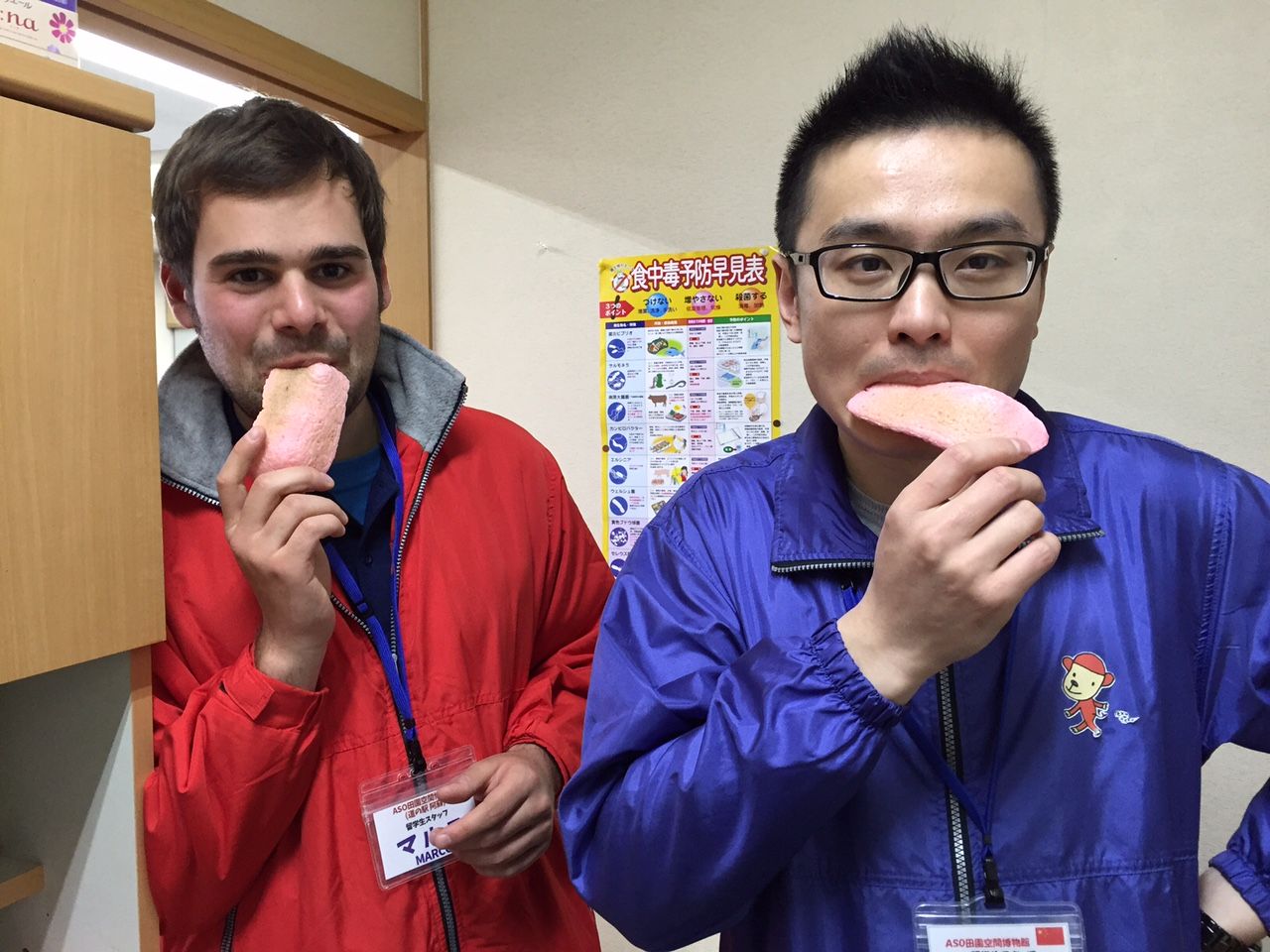 Dear readers,
Today Go and I tried a traditional specialty from the Aso area, which is sold at Michi no Eki Aso. Its name is Kakimochi and up to today the inhabitants of Aso like to eat it while having tea. As you can see in the first picture, Kakimochi are produced by shaping Mochi (small rice cakes made from sticky rice, which are typical for Japanese New Year) rectangular and hanging them up for a longer time in a cold place. They are produced by a private individual (who you can see in the photo), which is why there is no shop specializing in Kakimochi. You can buy two different varieties: raw and roasted Kakimochi. If you buy raw Kakimochi, you will have to roast them yourself. The raw ones` advantage is that they can be kept for a longer time. Kakimochi should, as I already mentioned, be eaten with tea as they are relatively hard. If you come to Aso please drop by and try this local specialty.
Kindest regards from Aso,
Marco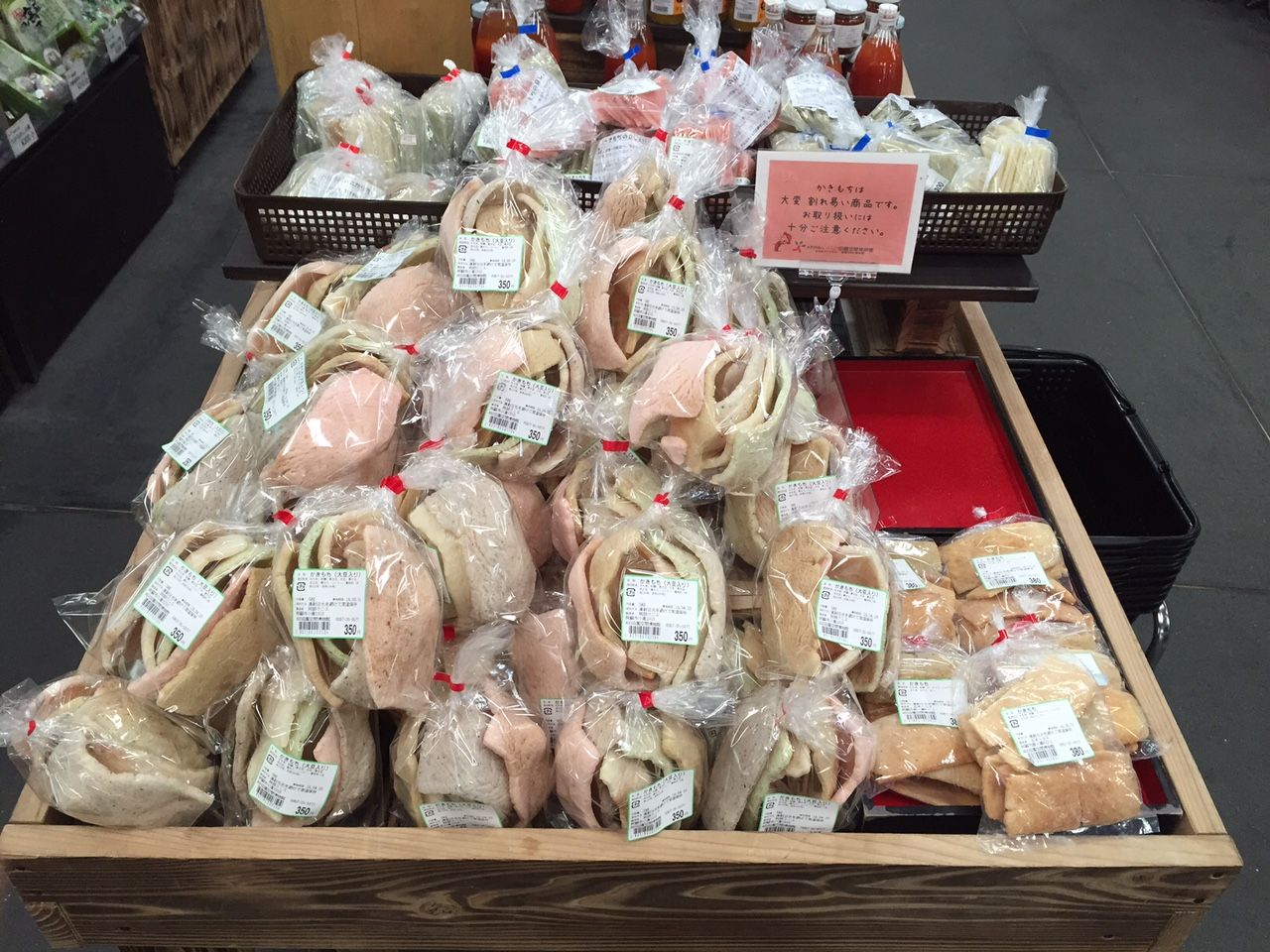 タグ :