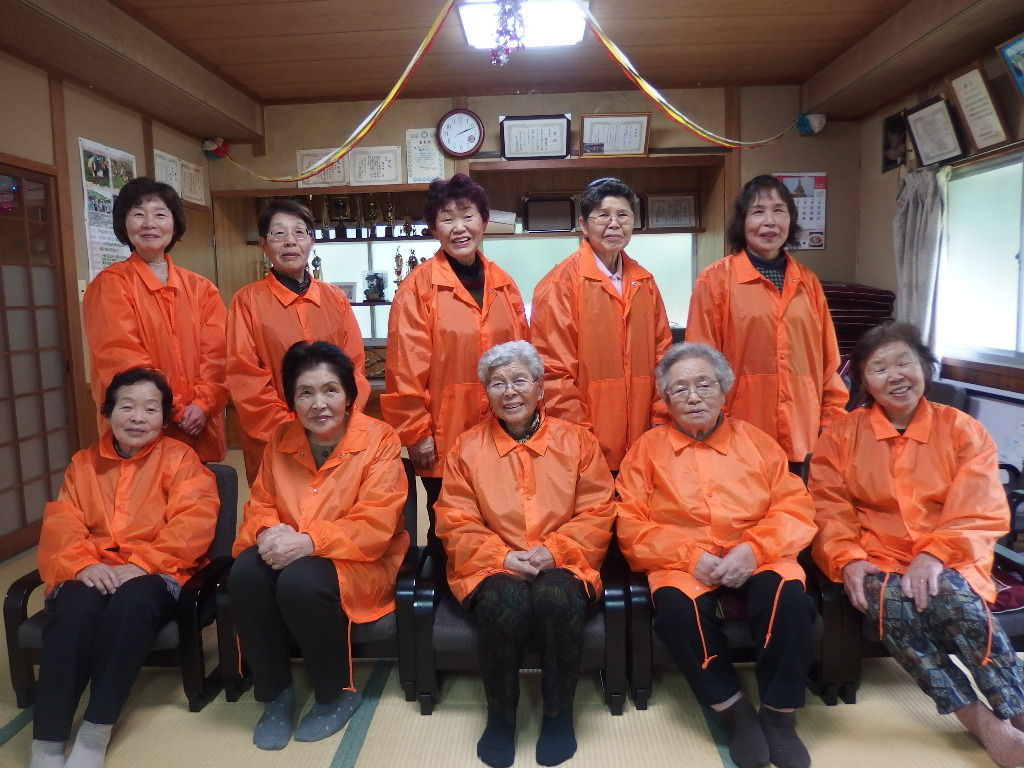 Heute haben Go, Fujimoto san (eine japanische Kollegin) und ich eine Gruppe älterer Damen besucht, die den Namen Amazakekai (
甘酒会
) trägt. Der Name bedeutet so viel wie Verein für süßen Reiswein. Die Gruppe nennt sich so, da sie zu speziellen Anlässen gemeinsam Amazake bzw. süßen Reiswein herstellen. Das jüngste Mitglied ist 75 Jahre alt, während die ältesteTeilnehmerin bereits 90 ist. Die Gruppe besteht seit circa acht Jahren und hatsich gebildet als die Mitglieder anfingen gemeinsam den Bon-Tanz zu üben. Dieser traditionelle Tanz wird an Obon, einem japanischen buddhistischenFeiertag, aufgeführt. Es handelt sich um eine Unterabteilung der Gruppe Genki Naragino. Naragino ist ein Gebiet der Stadt Aso mit circa 40 bis 50 Einwohnern.Genki Naragino versucht Besuchern zu ermöglichen Naragino durch die Teilnahmean Events kennenzulernen. Zu diesen Events stellt der Amazakekai süßen Reiswein her und bekocht die Teilnehmer. Bisher fanden diese drei Mal pro Jahr statt. Eines davon, die Herstellung von Miso, habe ich bereits in einem früheren Blogeintrag vorgestellt. Außerdem besteht die Möglichkeit an der Kartoffelernte und der Ernte von Taro teilzunehmen. Heute haben wir den Amazakekai besucht, da Fujimoto san die Mitglieder für einen Beitrag in der Zeitung der Stadt interviewen wollte. So hatten wir die Möglichkeit mit den Damen Tee zu trinken, selbstgemachtes Gebäck zu essen und uns zu unterhalten.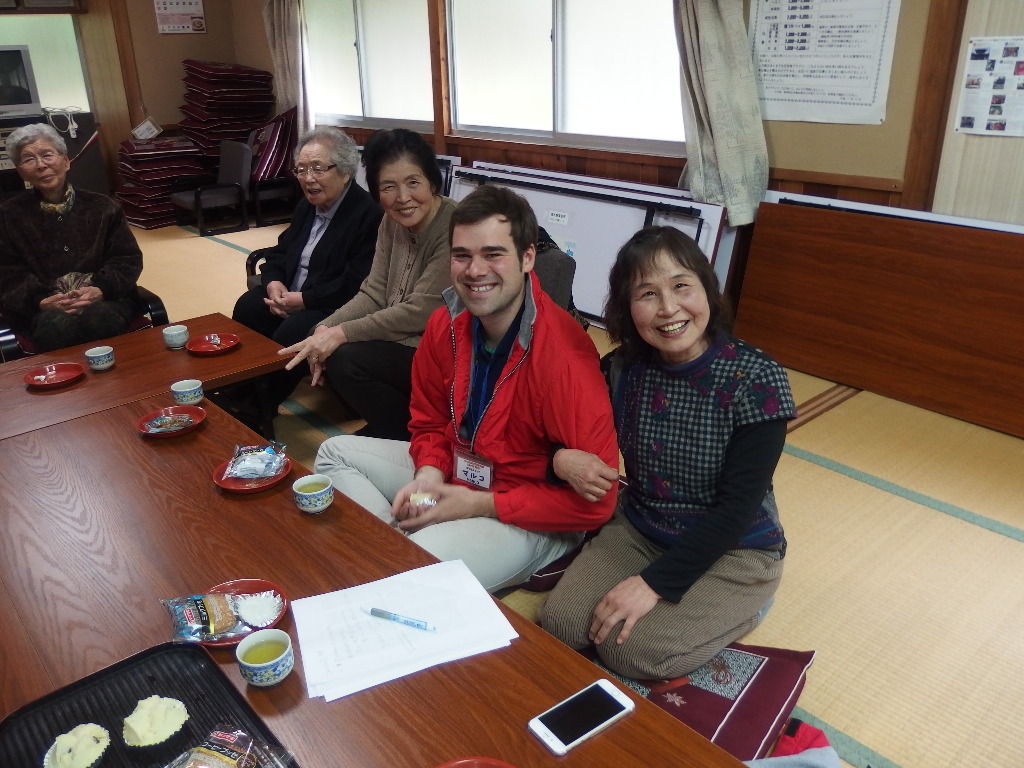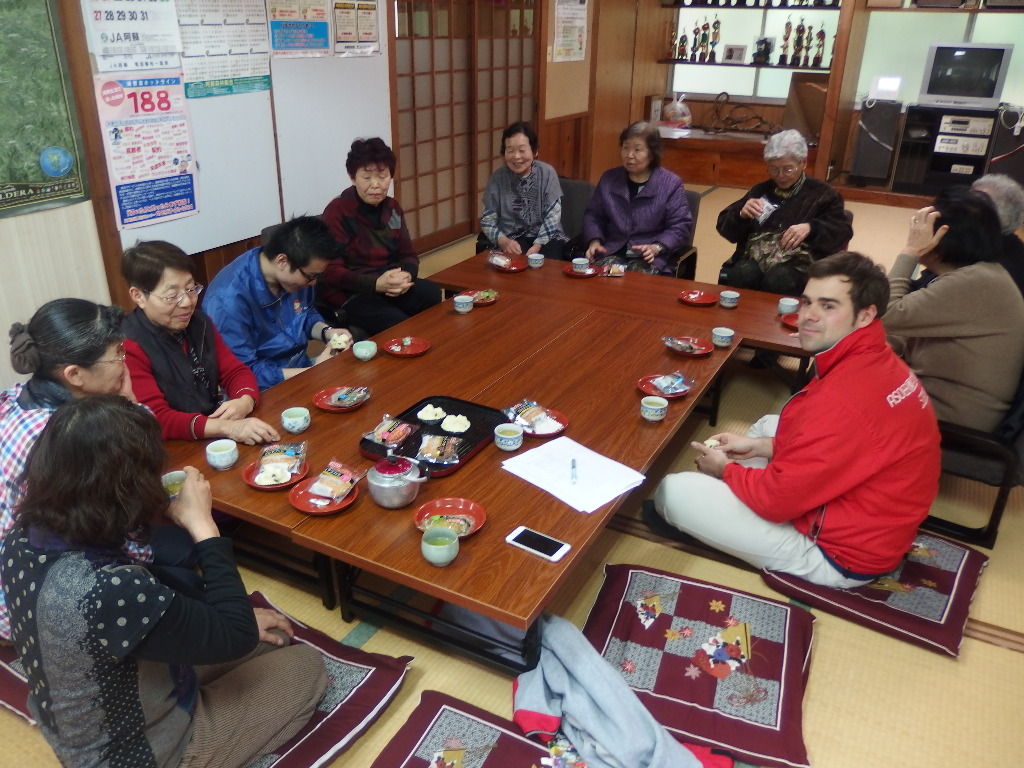 Today Go, Fujimoto san (a Japanese employee of Michi no Eki Aso) and I visited a group of elderly ladies named Amazakekai (
甘酒会
). The name means sweet rice wine club. The group bears that name, because it produces sweet rice wine on special occasions. The youngest memberis 75 years old and the oldest participant is 90 years old. The group has been existing for circa eight years and formed when the members started practicing the Bon dance together. This traditional dance is performed on Obon, which is a Japanese Buddhist holiday. Amazakekai is a subgroup of Genki Naragino. Nagarino is an area of Aso city inhabited by around 40 to 50 people. Genki Naragino tries to introduce the area to visitors by inviting them to participate in special events. On the days of these events Amazakekai will produce sweet sake and cookfor the participants. Until now such events have been taking place three times per year. I already introduced one of them (making Miso) in an earlier blog-entry. Moreover it is possible to participate in harvesting potatoes and taro. Today we visited the group, because Fujimoto san interviewed the members for an article in the newspaper of Aso city. This is why we had the chance to drink tea, eat homemade cookies and talk to the members of Amazakekai.
Kindest regards from Aso!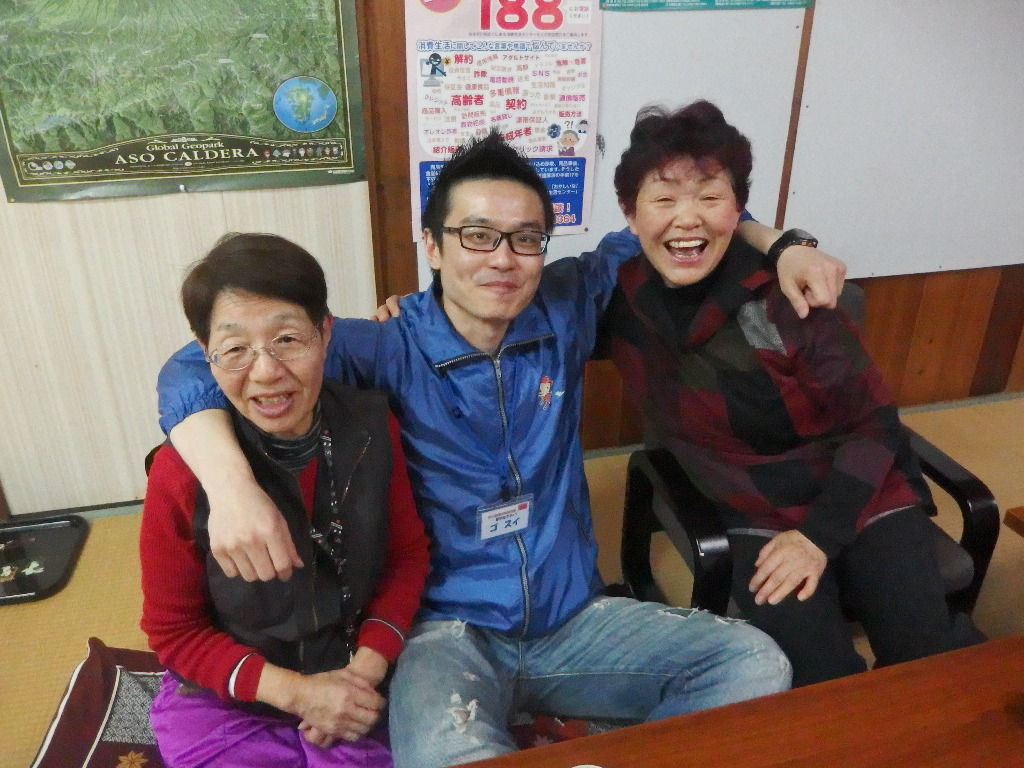 タグ :